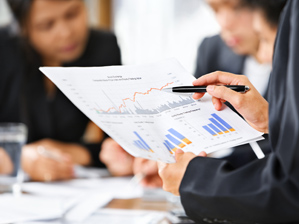 Overview of Private Client Services

Discretionary Asset Management
As a discretionary investment manager for private clients, GP directs the investment decision-making process. This begins with discussions and a review of the client's needs, wants, investment history, and risk tolerance to achieve a mutual understanding of the how the portfolio should be managed.
Once established, GP takes on the full investment responsibility by performing analyses, compiling research, monitoring markets, and ultimately buying and selling securities on behalf of its clients. Additionally GP may direct assets to outside managers, relegating the individual security selection process in order to exploit outside market expertise or to achieve investment diversification for the client's portfolio.
Finally, GP continually reviews portfolios and reports results to its clients monitoring its positioning within the marketplace as well as scrutinizing our continued compliance with client objectives. This is GP's way of establishing and maintaining accountability.